Lindsay Buick GMC is proud to bring you a diverse lineup of comfortable, powerful, and reliable models to choose from. It's a privilege to represent and carry these legendary GMC and Buick brands. We specialize in trucks and SUVs, so when you need a vehicle that you can count on, trust the folks at Lindsay Buick GMC to get you behind the wheel. From the prestigious GMC Sierra to the utilitarian Buick Encore, and spacious GMC Yukon, Lindsay Buick GMC has a vehicle to fit your lifestyle! Read on and learn more about the model lineup available at Lindsay Buick GMC. Need even more info? Don't hesitate to contact us or come down to our dealership, and let our team find the right vehicle for you.
GMC Canyon
A perennial power player in the mid-size pickup segment, the GMC Canyon checks all the boxes of any truck fanatic. Athletic and agile, the Canyon handles remarkably well on both city streets and off-road. Pair it with an available V6, and it can haul just like any of the big boys.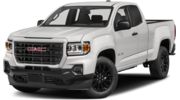 GMC Sierra 1500
A head-turner inside and out, the GMC Sierra 1500 is a full-sized pickup with a workhorse attitude. With multiple trim levels, bed lengths, engine options, and more, the Sierra 1500 is as much of a stalwart as it is a chameleon. Able to adapt, change, and of course, perform as you demand it to.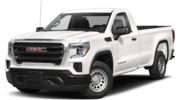 GMC Sierra Heavy Duty
There's no reason to shy away from the most challenging jobs if you're behind the wheel of any Sierra Heavy Duty truck. Engineered for the worksite, maximize your power and pulling ability with the ever-reliable Sierra Heavy Duty.
GMC Terrain
Compact and ready to hit the road, the GMC Terrain is the perfect fit for whatever you need it for. Store your precious cargo and get ready for an adventure, all while getting terrific gas mileage. For an economical and practical crossover choice, check out the GMC Terrain.
GMC Acadia
Looking for a three-row option with distinctive, aggressive styling? Bring your whole family to your next destination with the GMC Acadia. This mid-sized SUV option is a perfect harmony of a transporter and hauler, all while looking remarkably stylish doing so.
GMC Yukon
The largest SUV offering from GMC, the Yukon (and Yukon XL) is for those who live large and need a vehicle that can keep up with their lifestyle. Powerful, spacious, luxurious and unapologetic, the Yukon is everything you demand out of an SUV.
Buick Encore
Cruise in style with the Buick Encore. Fit five passengers in this small SUV that packs a big punch. Chalked full of performance and technology features, the Encore is a vehicle that is sure to satisfy.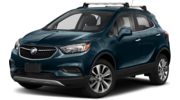 Buick Encore GX
Love the look and feel of the Encore but need a touch more space? Explore the Buick Encore GX. With the same nimble athleticism we love in the Encore, just with more added room for your cargo. Elevate your driving experience with the Encore GX.
Buick Envision
Charismatic and elegant, the all-new Buick Envision is a luxury SUV at a non-luxury price. Receive an abundance of standard driving features, while standing out on the road thanks to a sleek eye-catching design. Imagine your perfect vehicle and stand in awe as the Envision delivers on your dreams.
Buick Enclave
Let the whole family experience a luxury ride with the three-row Buick Enclave. Outfitted with premium materials, innovative safety features, and a peppy 3.6-litre V6, the Enclave delivers an opulent and comfortable ride for all to enjoy.
Can't get enough of the fabulous model lineup at Lindsay Buick GMC? Visit our dealership, today, and fall in love with one of our trucks or SUVs. Explore both our new and used inventory options from models like the Sierra, Yukon, Enclave and more. Book a test drive with our dealership today!
Book a Test Drive